16 July 2020
Wondering what will happen when your preschoolers come to Kindermusik classes next week?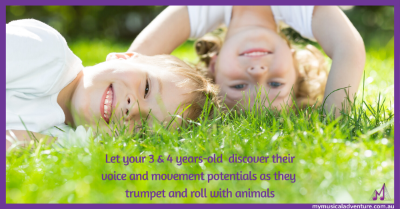 Get ready for lots of ribbity-hopping, trumpety-stomping, and oinkity-rolling!
In this unit "Animals a-Dancing", we use the movements and sounds of frogs, elephants, and pigs to emphasize how many movements your preschooler can make with their body and how many sounds they can make with their voice. Your preschooler will love moving every which way while singing the songs of our animal friends.
Come along and discover what your 3 to 4.5 years old (and you) are able to do, and find out how these help with their development.
Each enrolled preschoolers will receive a specially selected instrument, games and activities, an album of class music and a story. You will also receive parenting tips to continue the brain building with your child at home using music.
Term 3 classes start on next week Monday 20th July and only limited spots are left!



In-person classes are held at our Epping studio, and an online class is also offered on Thursdays. Check what's remaining available here.

***
Find a class time that suits you now here.
My Musical Adventure's Director, Kathleen, has been providing fun and engaging music lessons to families around the Ryde & Epping areas for over 20 years. Kathleen discovered the world's leading early childhood music and movement program, Kindermusik when looking for a quality music program for her newborn child and started teaching this amazing program since 2007. Nurturing a lifelong love of learning through the joy of music is at the heart of Kathleen & her music baby My Musical Adventure.