Welcome to My Musical Adventure, where you begin and continue your musical journey.
Our Story
At My Musical Adventure, we believe that everyone is musical and in fact, everyone is born musical. It is never too early or too late to begin your musical adventure.
At My Musical Adventure there is always a music program for your children or loved ones, whether they are babies, toddlers, preschoolers, big kids, students, teenagers, adults, retirees, or seniors; and whether you have prior music experience or not.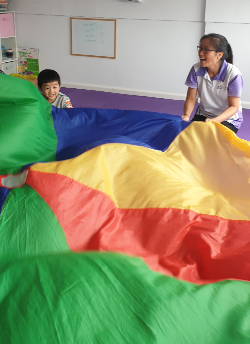 My Musical Adventure came about as a result of the founder Kathleen went looking for a quality music program for her newborn daughter and discovered Kindermusik. She then decided to become a Kindermusik educator herself so that she could share this amazing early childhood music program and the benefits that music has on a child's overall development.
Then we later introduced the Simply Music Piano program, which empowers everyone who wishes to, to be a successful, self-expressed musician.
My Musical Adventure is proud to be recognised as a Kindermusik Maestro Program in 2017. The Maestro status means that we are a truly expansive program and have proven masterful in reaching large numbers of families with the Kindermusik experience. We are proud to be recognised as a Kindermusik Top Program again in 2018 and 2020, putting us amongst the top 200 Kindermusik program worldwide!
My Musical Adventure is delighted to serve student families from all over the Ryde areas and beyond: Denistone, Denistone East, West Ryde, Eastwood, Marsfield, North Ryde, Macquarie Park, Ryde, Rhodes, Melrose Park, Putney, East Ryde, Meadowbank, Gladesville, Tennyson, Hunters Hill, Woolwich, Epping, North Epping, Homebush, Ermington, Newington, Rydalmere… and further afield from Sydney metropolitan too.
In January 2020, My Musical Adventure moved into its permanent studio at Epping, while still offering classes at Gladesville and Denistone East.
At My Musical Adventure, we understand that everyone's musical journey is different, yet it is adventurous, has its peaks and valleys and rewarding. Let's explore it together!